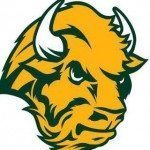 In just a few days, two teams are going to meet down in Texas to decide an NCAA championship. One is an established college football icon and is the darling of ESPN Gameday. The other is an up and coming team that is bent on establishing themselves on top of the heap.
Wait, you think we're talking about Oregon and THE Ohio State University?
No way! We're talking the North Dakota State Bison vs. the Illinois State Redbirds in the NCAA FCS Championship taking place in Frisco, TX on Saturday, January 10th at 12:00pm Central.
Obviously I can't be talking just about sports on this blog, so here comes the tech.
The Bison faithful have always traveled well with home games bringing folks in from hundreds of miles away across the state. A couple of years ago, an app emerged, The Bison Tracker,  to track the Bison migration during game day activities. Using geo-tracking everyone can watch little green dots move across the screen as the Bison fans head towards Fargo. But the last four years the tracker has gotten some unplanned exposure due to NDSU's amazing playoff runs and ESPN's fascination with the Bison (College Gameday was in Fargo the last two years). Now fans heading down to Texas can get in line with thousands of other green dots and form a massive green and gold mob heading down I-29.
Fans can check in and be found at tailgating with mapping technology. Schedules, parking lot maps, media outlets, viewing parties, highlights and more are all available in this wonderful app that works on iOS, Android and Windows phones.
Below is a timelapse video of last year's migration to Frisco as shown on the Bison Tracker app.  Download the app, Bison fans, and BE HERD!
GO BISON!