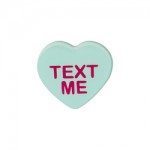 Hey guys, Valentine's Day is less than two weeks away. Yeah, I know, didn't we just do this?
But, being a technical consultant and all, I have your back this year, and you ladies as well with some ways you can use your mobile devices to enhance your Valentine's Day experience and impress the significant other.
Our devices are the new love note, the new love letter, the new gift-giver. You can plan an entire night or even weekend right from your fingertips.
Let's get started with the obvious ones :
Social Messaging – I'm not a huge Snapchat user but what a wonderful way to send quick photos of yourself or clues about your plans. I have a friend that used this for a wedding proposal, He Snapchatted a series of clues that led his bride-to-be to a special place where he popped the question. Or pick your favorite SM channel. Send a Twitter DM, Facebook message or whatever you use. Fun, easy, and effective.
Text Messages – While a hand-written note is still wonderful, there's not always time or proximity for that. Everyone is within reach of a well-timed text message with sappy, playful… or direct content (not saying… just sayin').
Restaurant Apps – Many of your favorite restaurants have their own mobile apps to allow reservations or at least contact info. In some larger cities you might have luck using something like Open Table to choose from a larger selection of date locations.
Flowers – Don't forget the flowers! Visit your favorite flower vendor online or use something like the 1-800 Flowers mobile app to pick just the right bouquet to impress.
Now, on to the items that will make the night a bit more memorable.
Alright. Off you go. I can't do the rest for you. Use that mobile technology to enhance your lifestyle instead of playing games and have an awesome Valentine's Day. Let me know how it goes @BeBizzy on Twitter, or in the comments below.
Disclosure: As member of a pretty cool team of influencers, I receive devices with line of service from Verizon. No additional compensation was provided nor did I promise a positive review. All opinions are my own.